---
*IN THE LINE OF DUTY* OFFICER DOWN - Lady Cop - 07-29-2010 02:59 AM

last night. one dead. one critical. one stable.

PHOENIX (AP) — A gunbattle erupted during an undercover drug operation Wednesday night, killing one police officer and wounding two others, police said. A suspect also was shot dead, and another was wounded and being detained.

TV news helicopters showed the three officers being taken out of a south Phoenix home on stretchers Wednesday. Police say one of them was later pronounced dead at St. Joseph's Hospital and Medical Center in Phoenix.

Police say one of the two wounded officers is in critical condition at a Phoenix hospital, while the other is in stable condition.

No names have been released.

Police say the wounded suspect is being detained and two other people are being questioned. Police are unsure if there any other suspects.

Video from television news helicopters showed the three officers being taken out of a home on stretchers. Police say one of the officers was later pronounced dead at St. Joseph's Hospital and Medical Center in Phoenix.



---
RE: 3 police officers shot in Phoenix drug bust - Lady Cop - 07-29-2010 03:49 AM

exactly one month ago two young Tampa officers shot in head in a "routine" traffic stop and killed, leaving 4 little children and a first baby due that week for Officer Kocab.
TAMPA — The sorrow suffered by the family of slain Tampa police Officer Jeffrey Kocab was compounded Wednesday. It happened in a way that left strangers reeling. Sara Kocab delivered the couple's first child,

stillborn.


the baby is with her daddy.



David Curtis. Jeffrey Kocab. both aged 31.
---
RE: IN THE LINE OF DUTY - Lady Cop - 07-29-2010 05:20 PM

CHANDLER, Arizona - The officer killed in a drug bust last night has been identified as Officer Carlos Ledesma, 34, a married father of two.

Investigators have not released the details of what led up to the shooting, but it reportedly was an undercover drug "buy and bust" operation. The officers were inside apparently trying to buy drugs from the suspects when bullets started flying. It's not yet clear what sparked the shootout.


---
RE: IN THE LINE OF DUTY - Lady Cop - 07-30-2010 11:49 AM

END OF WATCH.

The Officer Down Memorial Page Remembers . . .


Police Officer Carlos Ledesma
Chandler Police Department
Arizona
End of Watch: Wednesday, July 28, 2010

Biographical Info
Age: 34
Tour of Duty: Not available
Badge Number: 600

Incident Details
Cause of Death: Gunfire
Date of Incident: Wednesday, July 28, 2010
Weapon Used: Gun; Unknown type
Suspect Info: 2 shot and killed; 6 apprehended

Police Officer Carlos Ledesma was shot and killed while conducting an undercover buy and bust operation in Phoenix.

Officer Ledesma was working an undercover operation with several other officers. His team was to purchase a large quantity of marijuana. The officers arrived to make the purchase with over $100,000 in cash. As the transaction was taking place, the suspects may have attempted to rob the officers, and a shootout ensued. Officer Ledesma was mortally wounded, and two other officers suffered gunshot wounds.

Two suspects were shot and killed by the officers, and six other suspects were taken into custody.

Officer Ledesma is survived by his wife and two children.




---
RE: IN THE LINE OF DUTY - QueenBee - 07-30-2010 12:08 PM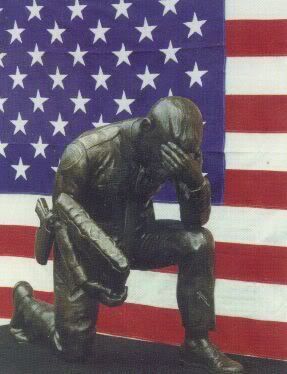 ---
RE: IN THE LINE OF DUTY*OFFICER DOWN - Lady Cop - 08-27-2010 10:56 AM

a Utah Deputy has been shot and killed. photo is suspect, at large.

Searchers are combing a remote desert area in northern Arizona for a gunman who allegedly shot and killed a Utah sheriff's deputy.

Coconino County authorities said Friday that Deputy Sheriff Brian Harris of Kane County, Utah, was shot about three miles east of Fredonia, Ariz., a small town just south of the Utah border.

Officials said the 41-year-old Harris was chasing 23-year-old burglary suspect Scott Curley on foot Thursday afternoon when the suspect allegedly opened fire.

The incident began around 2:20 p.m. on Thursday, authorities said, and the manhunt for Curley continued through the night.

Police said the suspect is familiar with the remote desert area and said they plan to drop flares from helicopters to use in the search.

Utah Gov. Gary Herbert describes Harris as a lawman who put "himself in a dangerous situation to protect his community."

Harris was married and the father of two daughters.



---
RE: IN THE LINE OF DUTY*OFFICER DOWN - Lady Cop - 08-27-2010 11:04 AM

suspect has fired on officers with a high-powered rifle.

Kane County sheriff's deputy Brian Harris, 41, was born and raised in Long Valley, attended Valley High School in Orderville where he graduated in 1987. The 6'7" Gulf War veteran leaves behind a wife, Shawna and two daughters, 13-year old Kirsten and 10-year old Kristina. Harris was active in the Lions Club and recently elected to the Orderville City Council. He had just returned from three-days at LDS girls camp on Cedar Mountain with his daughters, according to Orderville Ward Bishop Eric Esplin .

This is the second Utah sheriff's deputy to be killed in the line of duty this year. Millard County sheriff's deputy Josie Greathouse Fox was killed January 5, 2010 east of Delta, Utah, when she made a traffic stop.

St. George Police Department and Washington County Sheriff's Office SWAT teams were requested to assist in the manhunt underway for Curley who remains at large. Local, state, and federal agencies including the US Marshals have responded to the scene along with tribal police officers who are tracking the shooter. The National Guard is providing air support.

Coconino County Sheriff's Office spokes women Valeria Ausband said the suspect is armed with a high-powered rifle and scope, has exchanged shots with law enforcement officers who are pursuing him. He has fired on officers a second time pinning them down causing them to lose sight of him. Additional SWAT units from both states have been rushed into the area. Requests for flare drops from choppers have been ordered for use during the night as the search continues.

Deputy Harris:




---
RE: *IN THE LINE OF DUTY* OFFICER DOWN - Lady Cop - 08-27-2010 09:26 PM

manhunt still in progress. photo is Deputy Harris and his family.
also, a SWAT member in search. this guy is probably going to go down in a firefight since he has shot at officers already and his weapon will penetrate body armor.


---
RE: *IN THE LINE OF DUTY* OFFICER DOWN - Duchess - 08-28-2010 08:28 AM



LC, what happens to these families after the cop/husband/father is killed? Are they entitled to any financial help? Who pays for the funeral? I don't think I'd want to be involved with a LEO. I'd be scared every time he left for work.


---
RE: *IN THE LINE OF DUTY* OFFICER DOWN - Lady Cop - 08-28-2010 08:41 AM

all LEOs have some form of life insurance through their departments. and when it's in the line of duty like this, the dept. will cover all funeral expenses of course.
many departments also have scholarship/college funds for the children of slain officers.


---
RE: *IN THE LINE OF DUTY* OFFICER DOWN - Duchess - 08-28-2010 09:05 AM



I don't say this rudely but, fuck all if Ima risking my life for all the ungrateful bastards "out there". Some people don't deserve to be helped/protected and I'd never be able to get past that feeling. I already think the bad people have way too many rights.


---
RE: *IN THE LINE OF DUTY* OFFICER DOWN - Lady Cop - 08-29-2010 02:15 PM



a link to photo gallery of officers who died in the line of duty this year:


FALLEN HEROES


---
RE: *IN THE LINE OF DUTY* OFFICER DOWN - Lady Cop - 08-29-2010 10:51 PM

2 Alaskan Officers shot and killed saturday night. standoff with gunman continues. the little town had only 3 police officers.


Two police officers killed in Hoonah

August 29th, 2010

Two Hoonah police officers were ambushed, shot and killed Saturday night by a suspect who on Sunday afternoon was still barricaded in his home on Front Street in the Southeast Alaska community of about 800 people, according to Alaska State Troopers.

The wife and young children of the one of the officers witnessed the violence as it began, as did the mother of the other officer, said interim city administrator Bob Prunella.

On Sunday afternoon, law enforcement officers were evacuating nearby homes on Front Street, city officials said.

Alaska State Troopers sent heavily-equipped officers from Special Emergency Response Teams to Hoonah from their home bases around the state. SERT is the trooper tactical team, like SWAT. Area patrol troopers, wildlife troopers and the Juneau Police Department's tactical team all descended on Hoonah as well. The U.S. Coast Guard helped get officers to Hoonah.

Troopers identified the officers killed as Matthew Tokuoka, 39, and Sgt. Anthony Wallace, 32.

Troopers say they are trying to resolve the situation peacefully and say the suspect is barricaded and contained. They identified him as Hoonah resident John Marvin Jr., 45.

Tokuoka was off duty, Martin said. He was in his car with his wife, Haley, their 6-year-old son and their 2-year-old daughter. They stopped to talk to Wallace, the officer on duty, who was standing outside the vehicle. Wallace's mother, a nurse who was visiting from Florida, was nearby and saw her son shot, Prunella said.
"Everything in Hoonah is shut down. Nobody is moving. All the stores are closed. Nothing is happening. Cops just don't want anybody on the streets or anything," said Knehr.

"We're very hopeful that it will end without having further tragedy. We don't want anything to happen to the person that's inside the residence. We don't want anything to happen to people in the community," Wilson said.

The shooting leaves the small community of around 800 with only one police officer, Chief John Millan.



---
RE: *IN THE LINE OF DUTY* OFFICER DOWN - Duchess - 08-30-2010 05:24 AM



John Marvin should go down in a blaze of gunfire. There is no need to resolve it peacefully after he killed those two LEO's. When people do the kinds of things that man has done, it should automatically mean he has forfeited his rights. Blow his shit away.


---