This is a thread for alleged crimes and attempted crimes that are prevented or solved by concerned citizens.
Like this one: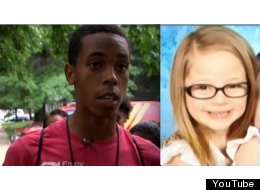 Temar Boggs (15) and Jocelyn Rojas (5)
15 year old Temar Boggs and his friend joined the neighborhood search for 5 year old Jocelyn Rojas.
Jocelyn was reportedly lured from her front yard in Lancaster, Pennsylvania into a car by a man promising ice cream. She was reported missing right away. LE and neighbors began scouring the area.
2 hours later and just before an Amber Alert was issued, Temar showed up at the house with Jocelyn.
He and his friend had spotted Jocelyn in a maroon sedan about a half mile from her home.
The man driving the car tried to elude them around the slow township streets, but the boys continued following on their bikes for 15 minutes before the driver stopped and let the girl out. She appeared unharmed.

The abductor has not yet been apprehended, but the boys described the car and police also have a description of the man and his clothing (from Jocelyn and/or the boys).
Story and video here:
http://www.kshb.com/dpp/news/national/jo...3985076517