(08-07-2014, 10:00 PM)

HairOfTheDog Wrote: But, Hill was driving to Columbia, not Colombia.

So, I think it's unlikely that Hill was scoping to swing with a Colombian tree monkey. That's just bananas.

Quite the difference. Unfortunately, I couldn't find any animals indigenous to Columbia.
I did read that this gorilla escaped from a Columbia zoo in 2009 though.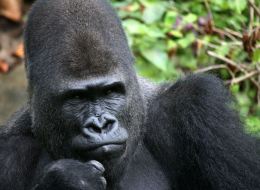 If that was his mission (to "do" the gorilla along with the dog), I just hope he already knows the lesson some people have learned the hard way. You're not done having sex with a gorilla until the gorilla says you're done. It's a good thing to know.