Da plane. Da plane. Where da hell is da plane, boss?
This is a very odd international mystery.
A Boeing 777 took off from the Malaysian capital Kuala Lumpur, bound for Beijing, China on Saturday morning.
The weather was good. There were 239 people on board the Malaysian Airline flight.
120 nautical miles off and the plane has not been seen since - it's like it disappeared into thin air, despite vast searches of key areas along the intended route. Global media is all over the story.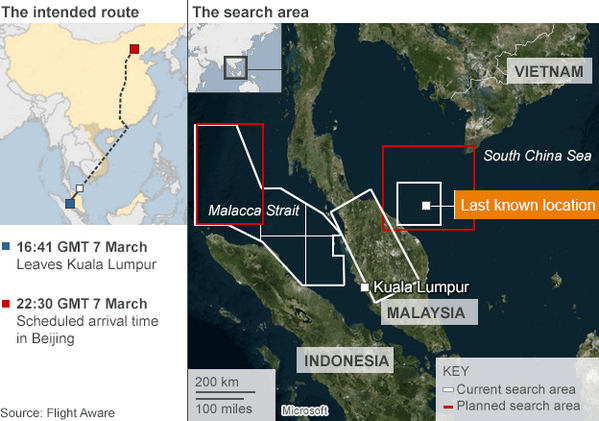 Air flight controllers say the plane may have turned back after take off; possibly a malfunction occurred and the plane disintegrated at around 35,000 feet.
Another possibility is that the plane was hijacked -- the investigation has uncovered that two Asian men boarded the plane with one using a stolen Italian passport and the other a stolen Austrian passport. None of the airport officials apparently checked the list of stolen documentation before letting the men board (though Interpol confirms one of the stolen passports had been on the list since 2012 and the other since 2013).
Malaysian Home Minister Ahmad Zahid Hamidi said late Sunday - "I am still perturbed. Can't these immigration officials think? Italian and Austrian (passport holders) but with Asian faces". I think he makes a damned good point.
Gotta be hell for the loved ones of the passengers and crew; hoping they get some answers soon. Truly bizarre.
Refs:
http://abcnews.go.com/International/bigg...d=22838958
http://www.huffingtonpost.com/2014/03/09...30152.html