TERRORIST ATTACKS: PARIS, MALI, AND MORE


Weird. Don't they normally like to boast?
(11-28-2017, 01:16 PM)

Duchess Wrote:

Weird. Don't they normally like to boast?
Yeah, it usually doesn't take them so long to take credit.
But, this was such a huge massacre involving many assailants, and Egypt's forces are very aggressive.
So, it could be that ISIS is responsible but not wanting to claim credit until their 'soldiers' are safe or dead.
I have not seen any news about ISIS in a while. I think they're on the run in Afghanistan.
You couldn't get a clue during the clue mating season in a field full of horny clues if you smeared your body with clue musk and did the clue mating dance.
I heard they recruited a few regulars from here.
France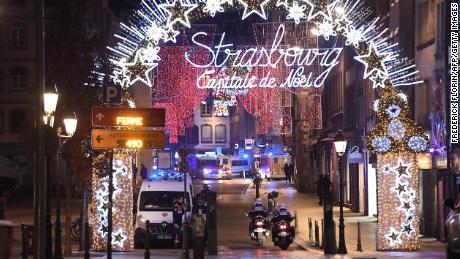 The Office of the Paris Prosecutor, which handles terrorism cases in France, says a man killed in Strasbourg in a shootout with police has been identified as the main suspect in a Christmas market attack that killed three people.
The man was identified as Charif Chekatt, a 29-year-old whom police had been searching for since Tuesday night's attack near Strasbourg's Christmas market, which also left 13 people wounded.
The SITE Intelligence Group, which monitors extremist activity online, says the Islamic State group's Amaq news agency is claiming the gunman who opened fire near a Christmas market in Strasbourg as a "soldier" of the group.
The claim was published shortly after news emerged of a shootout with French police in Strasbourg Thursday night in which a man believed to be the suspect was killed. IS claims of responsibility have often been considered opportunistic in the past.
French police had been searching for 29-year-old Charif Chekatt, the suspected shooter during the Tuesday night that killed three people and wounded 13.  Chekatt was born in Strasbourg and had a long criminal record.  He was reportedly radicalized while incarcerated.  Several of his family members and associates have been detained by police for questioning.
Refs:
https://www.usnews.com/news/world/articl...urg-gunman
http://mockforums.net/thread-10743-page-97.html
Morocco
Louisa Vesterager Jespersen, 24, and  Maren Ueland, 28,  were found dead by beheadings last week.  Louisa was Danish and Maren was Norwegian.  Rest in peace.
The pair were on vacation from Norwegian University, where they were studying to become outdoor tour guides and had set up camp at an isolated mountain site around two hours from the tourist village of Imlil when they were attacked.  That must have been horrifying. :(
Authorities believe they were attacked randomly by ISIS militants, who filmed the murder and posted the video online on various ISIS forums.  The video reportedly shows one man with a knife declaring that "it's Alah's will."
Moroccan officials don't believe the attacks were officially coordinated by the ISIS organization.  In total, 19 people have now been arrested in connection with the slayings.   
More:  
https://www.dailymail.co.uk/news/article...lings.html
I read about this a few days ago. They must have been so scared before they were killed   :(