BABY HOPE: RAPE/MURDER SUSPECT IDENTIFIED, ARRESTED, CONFESSES.
So happy to see this one solved - after over 20 years.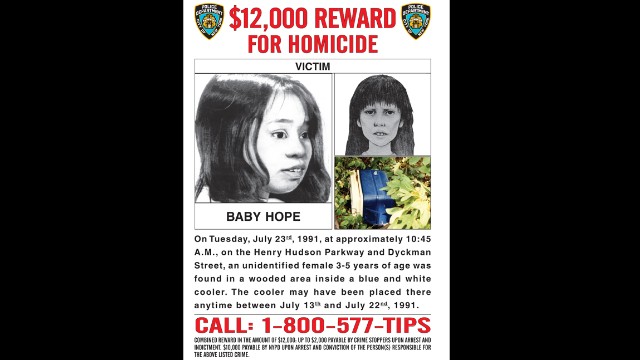 In 1991, the body of a naked malnourished little girl was found inside a blue cooler by the side of a Manhattan freeway. The baby girl had never been reported missing.
The detectives assigned paid for the burial and headstone and never stopped working the case.
She was unidentified for years and years, until a tip led NYPD to her sister and mother (confirmed by DNA).
Baby Hope has now been identified as Anjelica Castillo.
Her cousin,
Conrado Juarez
, 30 at the time of the murder, was arrested on Friday and arraigned yesterday. This is the POS:
///////////////////////// Based on Juarez's confession, Hope/Angelica was sexually assaulted and killed by him at her aunt's home. Juarez and his sister then stuffed her in a cooler and dumped it along the Henry Hudson Parkway.
Full story:
http://abclocal.go.com/kabc/story?sectio...id=9284889