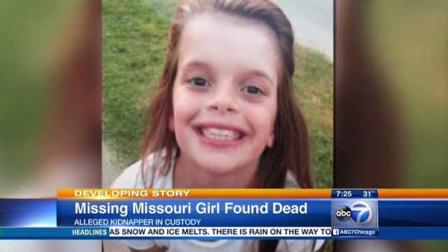 RIP Hailey Owens
Police say the body of a missing 10-year-old girl has been found in southwest Missouri.



Police Chief Springfield Police Chief Paul Williams says search crews found a body they believe is Hailey Owens inside a suspect's Springfield home on Wednesday.





Witnesses told investigators that a man in a gold-colored 2008 Ford Ranger drove down the street several times before approaching Hailey and pulling her into his truck around 5 p.m. Tuesday.







Craig Michael Wood, suspected kidnapper / child murderer





Forty-five-year-old grade school coach Craig Michael Wood is jailed on suspicion of first-degree murder in Hailey's disappearance.

Wood was arrested late Tuesday inside a vehicle parked outside his house. Formal charges have not been filed.



The Springfield School District says Wood is a coach and teacher's aide at a school for students in kindergarten through eighth grade. Hailey did not attend that school, and Williams says the two apparently didn't know each other.

Amber Alerts were issued in Missouri, Kansas and Oklahoma.

Wood has previous criminal history. He pleaded guilty to possession of a controlled substance in 1990 and was given a suspended execution of his sentence after completing court-ordered drug counseling programs, according to online court records.
Sources:
http://abclocal.go.com/wls/story?section...id=9437285
http://www.cbsnews.com/news/suspect-arre...d-mo-girl/